2014 Ed French Open
| | | |
| --- | --- | --- |
| | | Sponsors |
October 10-12, 2014
Seneca River, Baldwinsville, NY


Welcome to the 2014 Ed French Open. This event replaces the annual Wild Carp Fall Qualifier tournament in Baldwinsville, NY and has been renamed in honor of our fallen Wild Carp Club of Central NY member, Ed French.

Ed was always a joy to be around, sharing jokes and tales from his life. He was also a mentor to newcomer carp anglers, having loaned his gear to teach others on several occasions. He could be found frequently at his favorite fishing spot at Long Branch Park in Liverpool, where he was almost daily in the summer. Even despite his ailing shoulders, Ed loved to catch hard fighting carp and spend time with his family and friends. Rest in peace, friend.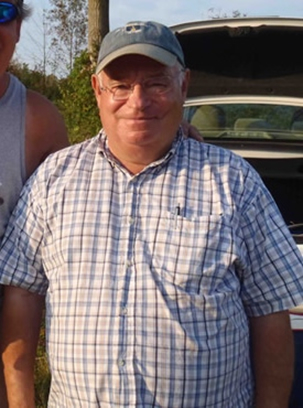 Ed French
(3/10/44 – 1/17/14)
There will be a peg draw Friday morning at 6:30 AM. Anglers may arrive to their peg at 7:00 AM and begin set up in preparation for the 8:00 AM start. No pre-baiting before 8:00 AM. Fishing will last for 50 consecutive hours.
This tournament is a Big 6 format, with cash prizes awarded to the teams with the most combined weight of their six largest carp caught.
Tournament Schedule
Thursday, October 9
5:00 – 7:00 PM AM, Final registration meeting at The Red Mill Inn (4 Syracuse St, Baldwinsville, NY)

Do not need to be present if already paid in full and submitted all paperwork. We will address any last minute questions and pass out event t-shirts (complimentary for anglers).
Friday, October 10
6:30 AM, Wild Carp Fall Qualifier Peg Draw (7550 State Fair Blvd, Baldwinsville, NY)

7:00 – 8:00 AM, Peg site set up (no pre-baiting)
Saturday, October 11
Sunday, October 12
10:00 AM, Fishing ends

11:30 AM, Closing lunch and award presentation
Payout
At maximum capacity (32 teams), $15,500 in cash prizes will be guaranteed in the following denominations. A portion of registration funds are withheld for event expenses (e.g. trophies, porta-johns, etc.). Prizes will be lowered proportionately for registration under the maximum.
Main Prizes
Big 6, 1st Place = $5,100 + trophy
Big 6, 2nd Place = $3,000 + trophy
Big 6, 3rd Place = $2,100 + trophy
Big 6, 4th Place = $1,800 + trophy
Big Common Carp = $900 + trophy
Big Mirror Carp = $600 + trophy
Big Fish Prizes(All Main Prize winners are excluded from this category)
Next Big 5 fish = $400 each
Peg Locations
Section 1, Community Park

1 Lions Parkway,
Baldwinsville, NY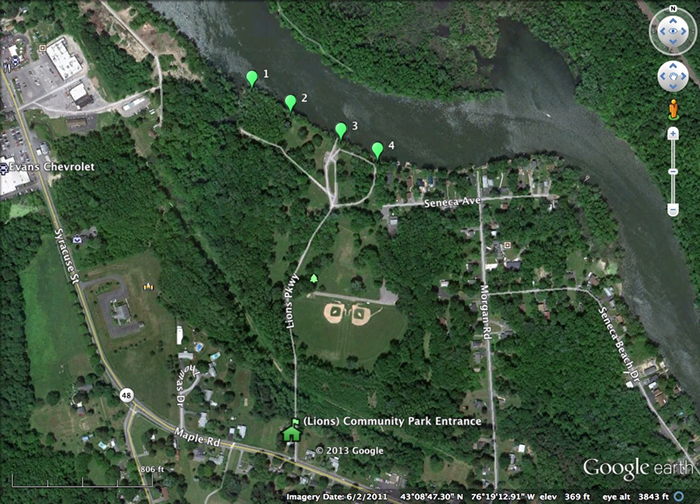 Section 2, Strache Property

7550 State Fair Blvd,
Baldwinsville, NY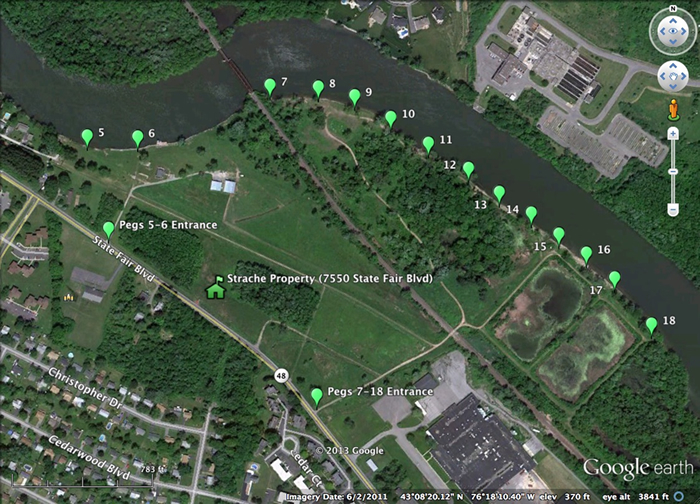 Section 3, Wegman's Good Dog Park

49 Cold Springs Trail,
Liverpool, NY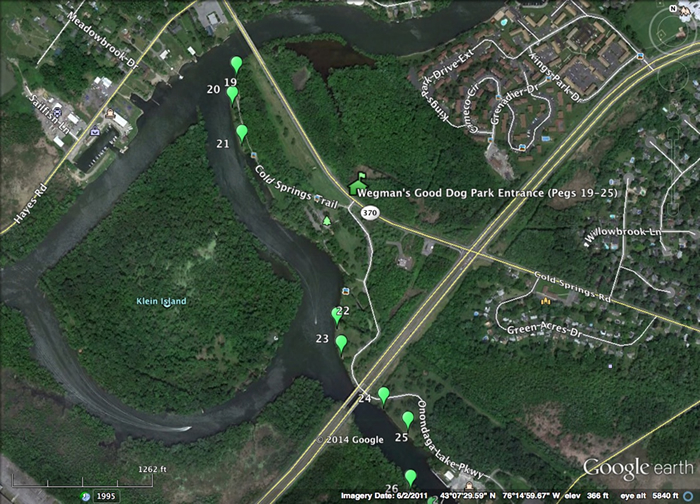 Section 4, Long Branch Park and Willow Bay

3813 Long Branch Rd,
Geddes, NY
Registration and Payment
Please click the link at the top of the page to download the registration form.

Registration forms and deposit or full payment must be mailed to Wild Carp Companies, PO Box 128, Baldwinsville, NY 13027. All full payments must be completed by and no further registrations will be accepted after September 26, 2014.

Payment ($600 full or $300 deposit) must be made via money order addressed to Wild Carp Companies. Any team that makes a deposit but does not show up for the tournament will forfeit their payment.

In order to prevent "no-shows," no team will be added to the leader board until a deposit or full payment has been received. If you cannot fill out the registration form in advance, just send payment with team member info and forms can be filled out at final registration.

If you would like to inform us in advance of payment that you anticipate attending, you may email Jason@wildcarpcompanies.com. However, your information will not be added to the leader board until payment is received.
Contact
Please direct any questions or comments to any of the following Wild Carp Club of Central NY members:
Kent Appleby

                 

Jason Bernhardt  

Rick Greenier             
Don Knowles 

Bill Markle  
Acknowledgements
Thank you to Ed's loving wife, Sharon French, for her support and being the catalyst for wanting a carp tournament organized in Ed's honor.

Thank you to Duke and Karen Strache not only for allowing this tournament to take place on their private property, but also the incredible amount of work they put into site maintenance for your benefit.

Please be respectful of the Strache property; no fires and leave your peg location as clean as it was when you arrived. If you are not pegged at 5 or 6, do not enter the property by the Strache household. Instead, continue along State Fair Blvd (Rte 48) and enter along the dirt path leading to the train track crossing. Upon reaching the railroad track, LOOK BOTH WAYS, then continue straight and the trail will lead you to your peg location.
| | |
| --- | --- |
| | Thank you to Duke Strache and the staff at Action Printwear for providing Ed French Open t-shirts for marshals, competitors and support staff. |
| | Thank you Charlie, Eric and the rest of the staff at Onondaga County Parks for granting park access and providing services to the Ed French Open. |
| | Thank you to the staff at The Red Mill Inn for offering lodging discounts, providing banquet space and offering great hospitality to guests of the Ed French Open. |
| | Thank you to the members of the Wild Carp Club of Central NY for donating their time and service to coordinate the Ed French Open |
| | Thank you to Dennis Moneypenny of Resistance Tackle for supplying tackle items to be used as additional prizes for the contestants of the Ed French Open |
| | Thank you to Jack Glisson of Glisson's Mobil, a longtime friend of Ed and Sharon French, whose donation to this event helped cover some of the event expenses. |
| | Thank you to Peter Wilinski of Pete's Carp Food for supplying bait items to be used as additional prizes for the contestants of the Ed French Open. |
| | Thank you to Zoltan Marton of MTM Tackle for donating tackle items for additional prizes for the Ed French Open.  |
| | Thank you to Bogdan, Istvan and Mihai of K-1 Baits for providing several gift certificates that will be used to enhance our prize offering for the teams finishing 1st they 4th place. |
Final Results
Here are the final scores of the 2014 Ed French Open, in order of Big 6 Total. (LB, OZ)
Big Fish = 32 lb, 7 oz (Peg 33, Moss/Moss/Tessneer)
Big Mirror = 24 lb, 0 oz (Peg 6, Burnagiel/Dach/Niemczyk)
Place
Peg
Anglers
Big 6 Total
Individual Fish Weights
LB
OZ
(LB, OZ)
1
33
Moss/Moss/Tessneer
163
11
32.7, 31.15, 28.3, 24.3, 24.1, 22.14
2
30
McPeak/Moon
147
2
29.3, 28.0, 26.4, 21.4, 21.4, 21.3
3
29
Targonski/Targonski/Wilinski
144
15
31.15, 26.2, 22.9, 21.11, 21.11, 20.15
4
21
Bernhardt/Rinaldo/Russell
144
8
28.1, 24.8, 24.2, 23.9, 22.2, 22.2
5
28
Carioti/Knowles
142
14
27.12, 24.14, 24.14, 24.12, 21.0, 19.10
6
23
Johnson/Mauney
136
8
25.5, 22.9, 22.8, 22.3, 22.3, 21.10
7
27
Edwards/Tatum
135
15
26.4, 24.8, 22.8, 20.15, 20.14, 20.14
8
31
Conger/Foster
135
1
27.14, 22.7, 21.14, 21.5, 21.5, 20.4
9
19
Eldridge/Eldridge/Syler
134
7
28.8, 26.14, 20.13, 19.12, 19.4, 19.4
10
24
Shattuck/Vegvari
133
10
24.2, 24.2, 22.9, 22.4, 20.11, 19.14
11
14
Foster/Sexton
129
5
27.11, 23.7, 21.12, 19.5, 19.4, 17.14
12
3
Chiodo/Shibles
128
1
29.9, 21.13, 20.1, 19.5, 19.3, 18.2
13
18
Gyori/Stout
127
0
22.6, 21.15, 21.4, 21.2, 20.4, 20.1
14
6
Burnagiel/Dach/Niemczyk
125
13
24.0, 23.5, 22.5, 19.13, 18.8, 17.14
15
32
Appleby/Markle/Markle
124
12
23.11, 21.11, 21.6, 19.13, 19.2, 19.1
16
5
Moneypenny/Wilson
120
15
26.15, 20.5, 19.13, 18.6, 18.0, 17.8 
18
17
Baird/Conroy
119
0
25.10, 24.9, 18.6, 17.12, 16.10, 16.1
17
7
Cerny/Hudson
118
15
24.5, 20.4, 19.9, 19.6, 17.12, 17.11
19
20
Burza/Nestorovicz/Szydlowski
113
7
22.10, 19.1, 18.15, 18.3, 17.10, 17.0
20
22
Biagini/Biagini/Lowrie
108
5
22.12, 18.15, 17.10, 16.15, 16.6, 15.11
21
4
Rafter/Warner
107
15
21.11, 20.3, 18.6, 17.1, 15.8, 15.2
22
26
Dragone/Wagner/Wagner
106
11
20.5, 18.7, 18.4, 17.8, 16.9, 15.10
23
10
Laubscher/Shiflet
104
14
20.1, 19.0, 18.0, 17.7, 15.3, 15.3
24
9
Brown/Forbes
103
2
18.14, 18.7, 17.0, 17.0, 16.2, 15.11
25
16
Cisney/Moon
102
4
18.13, 17.12, 17.11, 17.0, 16.2, 14.14
26
1
Ames/Ware
100
13
20.8, 18.8, 16.9, 15.13, 15.2, 14.5
27
12
Chatman/Skelton
100
9
17.11, 16.12, 16.12, 16.9, 16.7, 16.6
28
2
Jackson/Russell
96
14
21.12, 19.11, 19.9, 18.14, 17.0
29
11
Hall/Howard
95
5
17.3, 16.12, 16.0, 15.10, 15.3, 14.9
30
15
Dumitrescu/Gaspar
94
9
19.6, 18.7, 16.3, 14.9, 13.2, 12.14
31
8
Brooks/Strache
92
3
19.6, 16.12, 15.1, 14.2, 13.10, 13.4
32
25
Corcoran/Phillips
45
0
22.8, 22.8
Event Totals
183
9
32.7, 31.15, 31.15, 29.9, 29.3, 28.8
Registered Anglers
| | | | | |
| --- | --- | --- | --- | --- |
| # | Teammate 1 | Teammate 2 | Teammate 3 | Sponsor |
| 1 | Barry Howard | Bob Hall | | |
| 2 | Ed Wagner | Mike Dragone | Ed Wagner Jr | |
| 3 | Jason Bernhardt | Joe Rinaldo III | Paul Russell | |
| 4 | Kent Appleby | Bill Markle | Ben Markle | |
| 5 | Dennis Moneypenny | Adam Wilson | | |
| 6 | Christine Stout | Istvan Gyori | | |
| 7 | Richie Eldridge | Bill Syler | Billie Eldridge | |
| 8 | Mark Lowrie | Raphael Biagini | Jane Biagini | |
| 9 | Marcin Targonski | Peter Wilinski | Edith Nadesha Targonski | |
| 10 | Jim Carioti | Don Knowles | | |
| 11 | Keith Cisney | David Moon | | |
| 12 | Joshua Baird | Tom Conroy | | By Brian Brown |
| 13 | Gregg Hudson | Charles Cerny | | |
| 14 | Brian Brown | Mike Forbes | | |
| 15 | Berry McPeak | Don Moon | | |
| 16 | Dennis Moss | Jacob Tessneer | John Moss | |
| 17 | Steve Dumitrescu | Ioan Gaspar | | |
| 18 | Jeff Skelton | Dale Chatman | Derrick Stewart | |
| 19 | Greg Conger | Jay Foster | | |
| 20 | Tommy Foster | Brian Sexton | | |
| 21 | Ray Corcoran | Scott Phillips | | |
| 22 | Matt Tatum | Jason Edwards | | |
| 23 | Eric Ames | Steve Ware | | |
| 24 | Tom Brooks | Duke Strache | | |
| 25 | Scott Russell | Chris Jackson | | |
| 26 | Jeremy Johnson | Jeff Mauney | | |
| 27 | Robert Shiflet | Dick Laubscher | | |
| 28 | Henryk Burza | Marcin Szydlowski | Pawel Nestorowicz | |
| 29 | Andy Burnagiel | Tomasz Niemczyk | Lukasz Dach | |
| 30 | Chris Chiodo | Derek Shibles | | |
| 31 | Tamas Vegvari | Jason Shattuck | | |
| 32 | Shawn Rafter | Jed Phillips | Shawn Warner | |