2012 Wild Carp Fall Qualifier
October 27-28, 2012
Seneca River, Baldwinsville, NY




Welcome to the 2012 Wild Carp Fall Qualifier!

There will be a peg draw at the registration tent Saturday morning at 6:00 AM. Anglers will compete from the same peg location Saturday and Sunday, 8:00 AM – 6:00 PM both days.  Anglers may arrive to their day 2 peg at 6:00 AM and begin pre-baiting at 7:00 AM.

Teams must vacate the property at the conclusion of day 1 and overnight pre-baiting is strictly prohibited. Any anglers found to be baiting their pegged area between the hours of 6:30 PM Saturday and 7:00 AM Sunday will be disqualified from the competition and forfeit their registration fees.


Event Details




Format

This is a Big 4 carp tournament, with cash prizes and Wild Carp Week 2013 vouchers being awarded to the teams with the largest combined weight of their four largest carp caught.





Schedule

Saturday, October 27

6:00 AM, Wild Carp Fall Qualifier Peg Draw at 7550 State Fair Blvd, Baldwinsville, NY

6:30 – 7:30 AM, Peg site set up

7:00 – 7:30 AM, Pre-baiting permitted

7:30 AM – 6:00 PM, Day 1 angling

6:00 – 6:30 PM, Pre-baiting for Day 2 angling permitted

Sunday, October 28

6:00 – 7:00 AM, Peg site set up

6:30 – 7:00 AM, Pre-baiting permitted

7:00 AM – 6:00 PM, Day 2 angling

7:00 PM, Closing Ceremony

Basic Rules

$500 per team

Teams of two; one runner allowed per team

Two rods per angler, one hook per rod

Proper Carp care is required (including use of landing mats, catch and release angling, and use of holding sacks when awaiting marshals)

Weigh marshal must weigh your catch, record your score and witness the release of each fish




Payout

$10,000 in cash prizes will be guaranteed at 20 teams or more in the following categories:

Big 4, 1st Place = $4,000 and a $600 voucher for 2013 Wild Carp Classic

Big 4, 2nd Place = $2,500 and a $300 voucher for 2013 Wild Carp Classic

Big 4, 3rd Place = $1,500

Big 4, 4th Place = $1,000

Big Fish Overall = $1,000

Peg Locations

Pegs 1-12
Registration and Payment
Please click the link at the top of the page to download the registration form. Registration forms can be mailed to Wild Carp Companies, PO Box 128, Baldwinsville, NY 13027.

Payment ($500 full or $100 deposit) may be made via Paypal, check by mail, or credit card by phone (call 315-427-7109). Those making deposits may pay their remainder balance at registration via cash or money order only.

Tournament Directors
For any questions or concerns, please contact the tournament directors:

Jason Bernhardt, jason@wildcarpcompanies.com

Sean Sauda, sean@wildcarpcompanies.com
Acknowledgements
Thank you to Duke and Karen Strache not only for allowing this tournament to take place on their private property, but also the incredible amount of work they put into site maintenance such as mowing and de-weeding peg locations for your benefit.
Please be respectful of the Strache property; no fires and leave your peg location as clean as it was when you arrived. Do not enter the property by the Strache household. Instead, continue along State Fair Blvd (Rte 48) and enter along the dirt path leading to the train track crossing. Upon reaching the railroad track, LOOK BOTH WAYS, then continue straight and the trail will lead you to your peg location.
Thank you to JGB Enterprises for its sponsorship support. JGB is the creator of the Perfect Garden Hose, the world's first truly kink-free garden hose. At only 3.5 lbs per 50', it is also the lightest and easiest to use garden hose you will ever own!

Thank you to CARPPRO magazine for its continued media coverage and support as media partner of Wild Carp Companies.

Thank you to K-1 Baits for its sponsorship support. K-1 Baits
produce premium carp angling boilies, pop-ups, wafters, corn and much, much more!

2012 Wild Carp Fall Qualifier Results
Big 4 Winners
Steve Bailey and Chris West, Peg 16B, 107 lb, 1 oz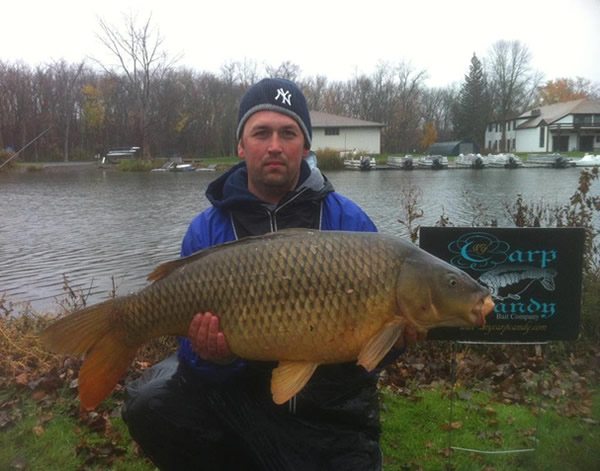 Big Fish
Chris Jackson and Scott Russell, Peg 4, 33 lb, 1 oz
Big Mirror Carp
Paul Dinea and Ioan Iacob, Peg 13, 18 lb, 0 oz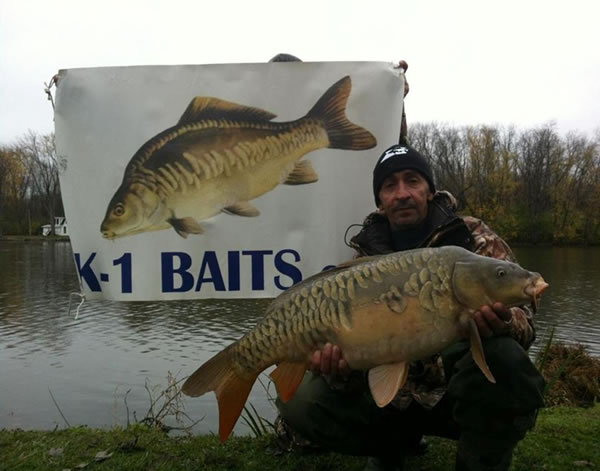 Place
Peg #
Anglers
Big 4 Total
Weights (lb.oz)
LB
OZ
1
16B
Bailey/West
107
1
30.2, 29.14, 23.14, 23.3
2
16A
Howard/Wagner
106
2
29.0, 28.5, 26.2, 22.11
3
4
Jackson/Russell
105
4
33.1, 25.12, 23.5, 23.2
4
15
Huxley/Slinker
105
3
28.15, 25.14, 25.3, 25.3
5
18
Kelsey/Long
100
7
26.0, 25.15, 25.9, 22.15
6
8
Horvath/Vegvari
99
11
30.2, 23.15, 22.13, 22.13
7
13
Dinea/Iacob
99
2
29.5, 23.8, 23.4, 23.1
8
7
Osmond/Reece
96
9
26.2, 25.1, 23.3, 22.3
9
3
Appleby/Markle
93
12
25.8, 24.5, 22.11, 21.4
10
2
Kovacs/Samok
92
6
30.8, 24.9, 19.3, 18.2
11
17
Burza/Szydlowski
90
10
25.12, 24.12, 22.10, 17.8
12
14
Brooks/Strache
84
13
27.11, 19.2, 19.1, 18.15
13
6
Ames/Ames
82
7
24.2, 19.13, 19.3, 18.5
14
1
Corcoran/Phillips
82
1
22.15, 20.13, 19.3, 19.2
15
10
Aciu/Bucur
75
11
22.14, 21.7, 17.5, 14.1
16
12
Targonski/Wilinski
74
7
19.15, 18.14, 17.13, 17.13
17
11
Burnagiel/Sander
73
4
18.11, 18.10, 18.2, 17.13
18
9
Greenier/Knowles
40
5
21.7, 18.14
19
19
Thomas/Thomas
21
11
21.11
Registered Anglers
| | | | |
| --- | --- | --- | --- |
| Teammate 1 | Teammate 2 | | Sponsor |
| Gilbert Huxley | Rick Slinker | | |
| Kent Appleby | Bill Markle | | |
| Mihai Aciu | Bogdan Bucur | | |
| Ioan Iacob | Paul Dinea | | |
| Tom Brooks | Duke Strache | | |
| Mark Reece | Scott Osmond | Vinny Jeffreys | |
| Steve Bailey | Chris West | | |
| Jason Long | Dan Kelsey | | |
| Ed Wagner | Barry Howard | | |
| Eric Ames | Charlie Ames | | |
| Marcin Szydlowski | Henryk Burza | | |
| Scott Russell | Chris Jackson | | |
| Laszo Kovacs | | | |
| Andy Burnagiel | Pawel Sander | | |
| Attila Horvath | Tamas Vegvari | | |
| Ray Corcoran | Scott Phillips | | |
| Peter Wilinski | Marcin Targonski | | |
| Toby Thomas | Brandon Thomas | | |
| Rick Greenier | Don Knowles | | Carp Creations |
| Laszlo Kovacs | Norbert Samok | | |