Wild Carp Companies Staff
Christine Stout, Club Director - Wild Carp Club of Indiana
Hello Everyone! My name is Christine Stout and I am a carp angler. I am relatively new to the carp angling scene, however, I have been fishing for anything since I was able to hold a fishing pole without being yanked into the water.

Being born and raised in the great state of California, I have been no stranger to the great outdoors and all things fishing, but, somehow, I never had the pleasure of latching into a carp until I was transplanted to the state of Indiana.


When I moved to Indiana, I was in a whirlwind of change; not only was I in for a culture shock, but the weather!

Armed with a few sweatshirts and bass/trout poles, it didn't take me long to figure out that a trip to Burlington Coat Factory was in order and that there didn't appear to be any fish around that I was accustomed to catching. For some reason, my favorite jars of "Powerbait"—which used to nail fish in California—were being ignored by the fish in Indiana.


After a little research, I found that Indiana has the usual Bass, Crappie, Bluegills, etc.--which are fun to catch (not to mention delicious)--but I wanted something bigger! So a trip to our infamous local bait shop, West Side Bait and Tackle, came to be and—Mother of God—I hit pay dirt!


The shop walls are lined with photos of anglers with all sorts of fish—some small, some large, some huge, some with teeth that look like they can make short work of one or more fingers in a single bite. The little shop was crammed with anglers and everyone was chattering and laughing, telling stories about what they had caught, what they will catch, what was biting, baits, etc.


I knew right then I had found my fishing "haven." These were the people I wanted to be around; these were the folks that could put me on a path of fishing happiness. I was told that carp was "where it was at." If I wanted a fight of a lifetime, a rush like no other, then fishing for Carp was what I needed to be doing.

Over the last 2 years , my appreciation for Carp has turned into a passion to educate others regarding the sport. I remember someone asking me what I fished for, and when I said carp, they asked me in dismay, "You fish for those on purpose?"

I knew then that I needed to make it my business to share this wonderful sport with as many people as I could, to talk about it as much as I could, to educate those who think carp are just a "trash fish."
Contact Christine - christine@wildcarpcompanies.com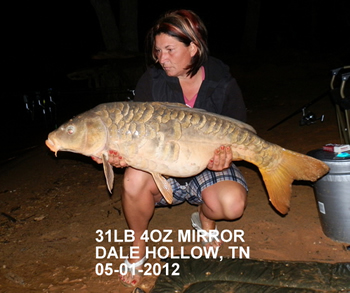 Director Christine Stout with a 31+ lb mirror carp caught
in Dale Hollow, TN.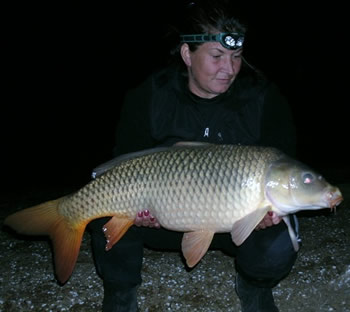 Christine Stout is the Club Director of the Wild Carp Club of Indiana.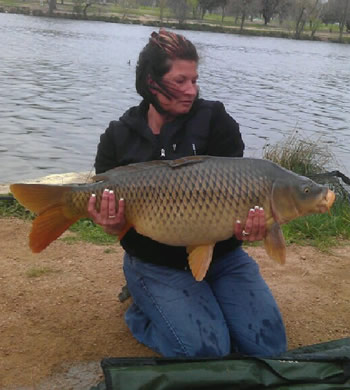 Wild Carp Club of Indiana Director Christine Stout with a common carp.