Wild Carp Companies Staff
Jason Bernhardt, Tournament Director - Wild Carp Companies of Central New York
Jason Bernhardt represents the new breed of Carp angler, a converted non-fisherman, here in the US.
Having spent the last 6 years in Carp tournament promotions, Jason began his quest as a competitive Carp fisherman in 2008 fishing the Ted Carrier Tournament of Champions endurance event out of Hartford, CT.
Since then, Jason has fished the 2009 and 2010 Carp Tournament Series NE Regionals in Baldwinsville, NY, the 2010 Wisconsin Carp Challenge and the Wild Carp Companies Fall Shootout.
Jason has developed an eclectic Carp angling style that blends European tackle with the American pay-laker approach to baiting.
He uses oats, grits and panko to follow the feeding patterns of Carp as pack bait and uses pops, corn and the occasional boilie. One of his favorite flavor profiles for bait is the Water Pig Junior's Mint (named in Jason's honor).
When not competing and promoting events, Jason dedicates extensive amounts of time to angler education and outreach. Jason has done seminars with local school districts including Liverpool and Syracuse.
Additionally, Jason has volunteered to support other local events such as Mickey's Bait & Tackle annual Carp tournament.
Contact Jason - jason@wildcarpcompanies.com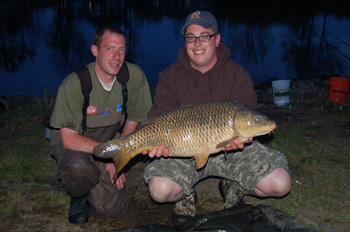 Jason Bernhardt with a 23 lb Common Carp.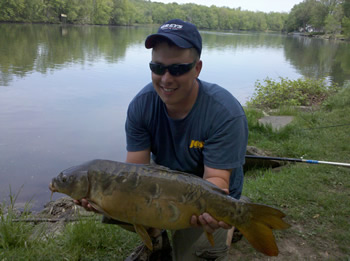 Jason Bernhardt with a 15 lb Mirror Carp.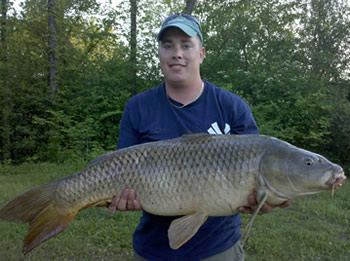 Jason Bernhardt with a 26 lb Common Carp.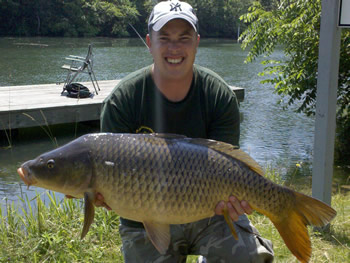 Jason Bernhardt with a 32 lb Common Carp.