Wild Carp Companies Staff
Robert Hogan, Club Director - Wild Carp Companies of Arizona
Robert Hogan is from Florida and has been fishing for close to 40 years.

In the beginning, Robert was mainly in to bass fishing, but as he got older he progressed to more salt-water fishing and less freshwater, targeting grouper, sea trout, flounder, cobia, tarpon and shark.
When Robert moved to Pennsylvania, he became enthralled with fly fishing for trout on the Small Wild streams in PA and NY.
Later, he moved to Arizona and realized the bass are smaller than he was accustomed to and that most trout in his area are stocked unless he travels several hours north, so he did not fish for a while.
After his son decided that he wanted to go fishing, Robert put some fresh line on his Ultra-Light reels, bought him a zebco outfit and headed to local urban ponds for some trout fishing.
Robert and his son had a really great time fishing together and made several return visits to those urban ponds. The two would catch a large number of stocked trout, but something felt like it was missing.
One day on the local pond, Robert saw an elder gentleman fishing with this twelve-foot rod. The man was casting three quarters of the way across the pond with a bait ball the size of softball, which prompted Robert to think, ³If he wants to fish that spot, why not go to that side of the pond?² Then Robert observed him catch a number of catfish and carp.
Eventually, Robert approach the man, Carl Gardner, who explained European carp angling methods and allowed Robert to use his rod to reel in a carp.

Three years later, Carl is still a mentor to Robert‹who is completely ³addicted² to carp fishing, believing them to be the world¹s greatest sport fish.

Robert is now applying his passion for carp by creating more awareness of the sport as director of the Wild Carp Club of Arizona.
Contact Robert - robert@wildcarpcomapnies.com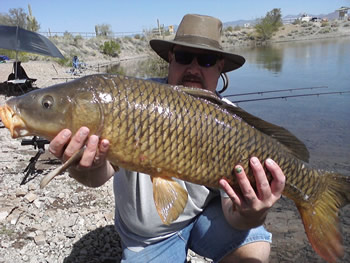 Robert Hogan with a common carp caught during a session in Arizona.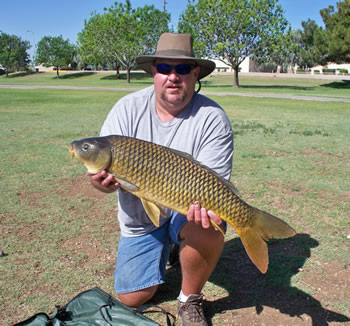 Robert Hogan is the director of the Wild Carp CLub of Arizona.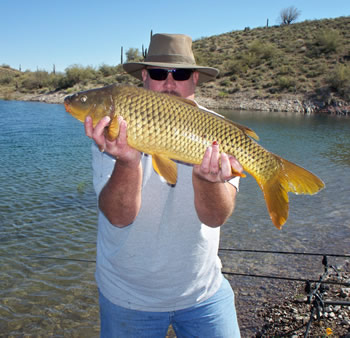 Robert Hogan enjoying a carp angling session in Arizona.