Wild Carp Companies Staff
Richard Chamberland, Tournament Director - Wild Carp Companies of Quebec
Richard Chamberland holds a degree in Protection and Development of Wildlife Habitats and has been fishing for over 20 years throughout the province of Quebec—where he has also worked several years as a hunting and fishing guide.
 
In the past Richard fished principally pike, trout and walleye, but now he has mainly diverted his interest to carp. He also loves to tease salmon and steelhead in Lake Ontario.
 
In terms of carp angling, Richard practices principally a European style. He fishes a lot with corn, method and spod mix. He fishes primarily the St. Lawrence River and its tributaries in the Greater Montreal area, but he also loves to visit Long Sault, Ontario, where the carp fishing is fantastic.

Richard is a Director of the Wild Carp Club of Quebec, established in 2012.

For more info about Richard, please visit his website.
Contact Richard - richard@wildcarpcompanies.com
Staff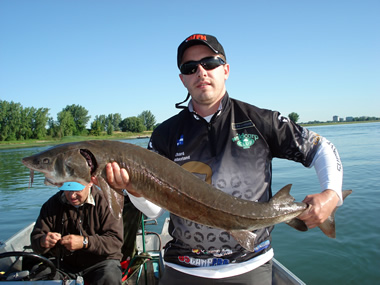 Richard Chamberland with a beautiful sturgeon.