Wild Carp Companies Staff
Matt Perdue, Club Director - Wild Carp Club of Virginias
Hello, My name is Matt Perdue. I was born and raised in Bluefield, WV. Even though I am a lifelong native of southern West Virginia, I never appreciated its true beauty until a few years ago.

I got my start fishing for trout and bass with my dad. Later we moved on to chasing stripers, and that is when I originally caught the carp bug. While dad was sleeping, I would be at the boat dock trying to catch carp. Rarely would I catch more then a few in a day but it made my trip. Shortly after, I got caught up in work and life and didn't fish for years.

Fast foward to 2007 when I was getting back to my roots fishing for trout, I stumbled into what I thought was every fish in the reservoir spawning! After a very productive day of catching the carp I used to love so much when I was younger, I was hooked for good!

Shortly after, I met Mike Turpin at the VA CAGI event in 2007 where he introduced me to packbait, paylakes, and how to inetgrate them into wild water.

I enjoy fishing tournaments and fish-ins as often as possible, along with helping out with "Take a Kid Carpin'" events. Some of the best things about carp fishing for me are meeting likeminded fishermen, educating the ones that want to learn and most of all enjoying nature.

From Spring to Fall there's a good chance you will find me somewhere along the New River Gorge or at one of the reservoirs in southern West Virginia.
Contact Matt - matt@wildcarpcompanies.com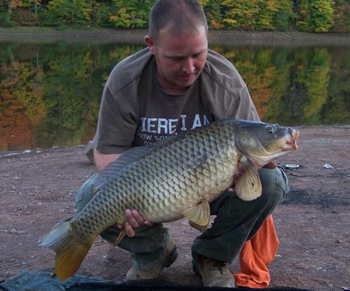 Director Matt Perdue of the Wild Carp Club of the Virginias.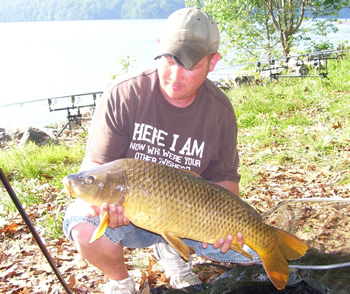 Matt Perdue is co-director of the Wild Carp Club of the Virginias.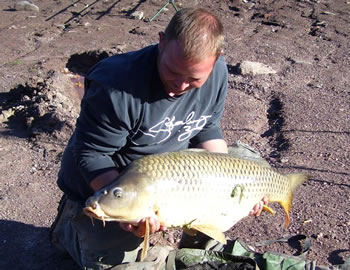 Wild Carp Club of the Virginias Director Matt Perdue with a huge common carp.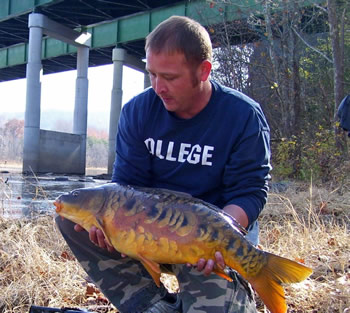 Wild Carp Club of the Virgunias Director Matt Perdue with a beautiful mirror carp.