Wild Carp Companies Staff
Michael Cummings, Club Director - Wild Carp Club of St. Lawrence
Michael Cummings had been fishing all his life but did not discover carp until 2008. From the start, he was enthralled and could not get enough of it, fishing five to six days per week during the summer.


Living along the St. Lawrence River has given Michael opportunities to meet carp anglers from all over the world—including Serbians, Romanians, Ukrainians, British, Japanese, Canadians and several others from various US States.

By meeting these people, it showed him differences in fishing strategies from around the world in a wide array of perspectives. Thanks to his accrued experience, almost always he leaves a session on the St. Lawrence with a successful outcome.

Michael's continued success caused many of his friends to want to try carp fishing as well, and some of them have begun fishing as often as he does each year.

Michael frequently competes in tournaments ranging from small, hometown events to bigger, well known tournaments. He has competed for three years in the St. Lawrence Junior Carp Tournament and as a team has placed in the top 4. In 2011, he caught the highest Big 4 carp and took 1st place. That taste of success has further fueled Michael's passion for carp fishing.

He looks to bring that passion every session as the Club Director of the Wild Carp Club of St. Lawrence.
Contact Michael - michael@wildcarpcompanies.com

Club Director Michael Cummings with a common carp caught from the St. Lawrence River in Upstate NY.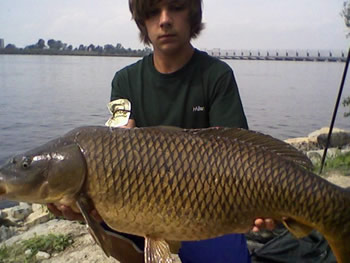 Club Director Michael Cummings with another fine catch from the St. Lawrence River near Massena, NY.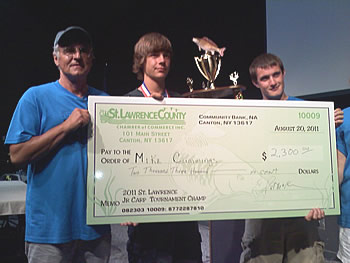 Michael Cummings receives his $2,300 check for winning the 2011 St. Lawrence Jr. Carp Tournament.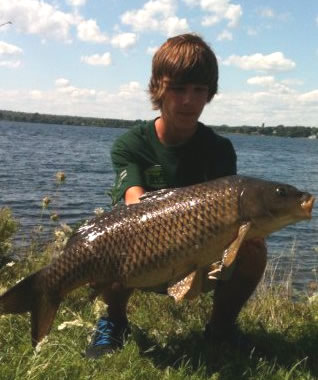 Michael Cummings is the Director of the Wild Carp Club of St. Lawrence.