Wild Carp Companies Staff
Robert Duprey, Club Director - Wild Carp Companies of New England
Robert Duprey has been obsessed with freshwater fishing for as long as he can remember. Thanks to his father, he started fishing for bass, trout, panfish and bullhead as soon as he could hold a rod. At seven years old, he won his first fishing derby at a local sportsman's club and has been honing his watercraft ever since.

A few years back, his good friend, Dmitri Consolati, introduced him to carp fishing. From the time he landed his first carp, a 27lb mirror, he was drawn to these smart, tough, unfairly maligned fish. A big fan of the technical facets of Euro-style fishing, Rob is now a certified "Carpaholic" and is truly excited about the sport's potential in the United States.

In a short time, Rob has eight carp topping the 40lb mark, has a World Carp Championship tournament under his belt, has placed in the top third of his first Wild Carp Classic and has placed in every TOKS contest he has entered—and people are starting to take notice.
In fall 2012, Rob landed a U.S. consultant position with The Online Keepsack and in 2013 he became U.S. consultant for CC Moore baits. While always looking to top his personal best, it will be a challenge to surpass the 48 lb, 13 oz mark.

Rob hopes to share his passion and knowledge with others throughout New England—from the basics of fishing and catching to proper netting, fish handling and care through safe release.
Contact Robert - rob@wildcarpcompanies.com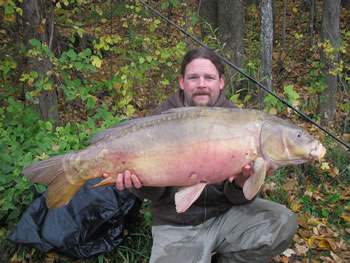 WCC of New England Director Robert Duprey with a 30+ lb mirror carp with full Fall color.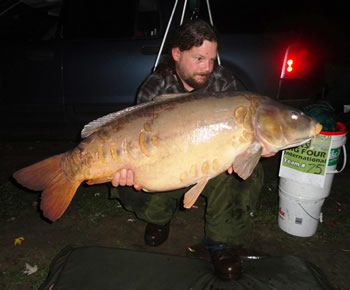 WCC of New England Director Robert Duprey with a 40+ lb mirror carp.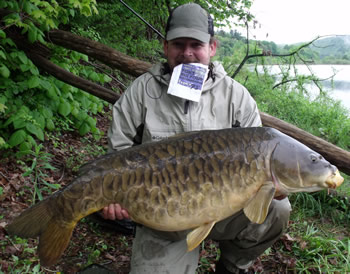 WCC of New England Director Robert Duprey with a beautiful fully-scaled mirror carp.